Stephen LEFEW 3 4

Another name for Stephen was Stephen LEPHEW.


General Notes:
I have chosen to use Lefew as the default spelling of Stephen's surname, for that is the way he spelled it when he signed the petition that led to the formation of Rockingham County from Guilford County, North Carolina. While that is also the way his name was spelled in census records, for some reason it was always spelled Lephew in deed records. His children also mostly used Lefew, although in most instances it eventually became Leffew, but again, Rockingham County deeds, and also marriage records, used Lephew.

Research Notes:
Racial Admixture:

Nearly every branch of the Lefew/Lephew family, including my own, independently has stories about our family being part Cherokee Indian. Certainly the census records, which often recorded them as "free persons of color" or "free other" after the death of Stephen, support these stories and suggest his wife Elizabeth was at least part Native American. Indeed, a few Lephews do appear on the Dawes Rolls as partial blood Cherokees. But, these records are also consistent with our family being part African American, which has been the theory of Paul Heinegg, whose cited website is devoted to free African Americans, particularly those enumerated as free persons of color in the 1790 and 1800 censuses. Our Lefew/Lephew family is one of the featured families. While I have maintained an open mind as to this possibility, I thought it more likely that we were part Native American given our independent family traditions to that effect.

Since taking that position, DNA testing has become a valuable genealogical tool. Accordingly, I launched the Leffew DNA Project with the goal of pinning down the racial admixture of our Lefew/Lephew family. It was my expectation that mtDNA testing of a direct female descendant of Stephen's wife Elizabeth would show a Native American haplogroup and that yDNA testing of a direct male descendant would show a Western European haplogroup. Those were not the results. Instead, mtDNA testing revealed a common European haplogroup and yDNA testing revealed a haplogroup which is most commonly associated with those African Americans of slave ancestry. For details, see the project's website at http://azstrong.tripod.com/leffewdnaproject/.

However, not all the questions about our Lefew/Lephew racial admixture can be answered by the current state of DNA testing. It's still possible that the racial admixture of the Lefew/Lephew family includes Native American. For example, yDNA testing has only established the haplogroup of one of Stephen's four grandparents and mtDNA testing has only established the haplogroup of one of Elizabeth's four grandparents. What of the other grandparents? A possible scenario might be that Stephen's father was the son of an African American slave and a white European servant woman, which may have been his ticket to being a free African American. Being multi-racial, his father may have associated with other multi-racial persons and may have married a woman who was at least part Native American. Under this scenario Stephen would be part African American, part white European and part Native American. Similarly, his wife Elizabeth could have had a Native American component in her racial admixture. So, there is still room for the family traditions that the Lefew/Lephew family was part Native American, just no DNA proof.

The Huguenot Story:

Lefew/Lephew/Leffew researchers generally claim "Isaac Le ffeure," a Huguenot, as our immigrant ancestor. He was a passenger on The Peter and Anthony, which sailed from London under the command of Daniel Perreau and which arrived in Jamestown on 20 Sep 1700. This claim is based upon a footnote to his name on the ship's passenger list, presumably added by R. A. Brock, the compiler of the book containing documents relating to Huguenot emigration, which states the name "is now rendered Lefew in Virginia." By "now," he must have been referring to 1881, since that was the date his book was first published. This is one of only two footnotes regarding the names of the passengers on The Peter and Anthony and no evidence is offered in support. While there were no doubt Lefews in Virginia in the latter 1800s, how he connected that name to Isaac Le ffeure of 1700 Manakin Town remains a mystery.

Unfortunately, no one has ever been able to solve the mystery by filling the gap. The earliest Lefew record we have is the 1782 North Carolina land grant to our Stephen Lefew. No earlier records have been found for him or for any other Lefew. Thus, the entire claim to Isaac Le ffeure rested on an unsubtantiated footnote.

Even before DNA testing, I always thought that the claim Isaac Le ffeure was our immigrant Lefew ancestor was weak, primarily because of the cited scholarly article by Cameron Allen on the subject of Isaac Le ffeure and his family. What's interesting about this article is that although Mr. Allen cites Mr. Brock's book for the passenger list of The Peter and Anthony, and for the name Isaac Le ffeure, he does not mention the footnote. Instead, he begins his article with the following observation: "Lefèvre [his opinion of Isaac's true surname] is one of the most common of French surnames, not surprisingly, meaning as it does 'metal worker.' It has a wide variety of spellings: Lefebure, Lefebvre, Lefeuvre, Fèvre, to mention only a few." The omission of Lefew as well as the failure to mention Mr. Brock's footnote suggests Mr. Allen was not accepting of either. Query whether the footnote might not have contained a typographical error and that what was intended was that Lefevre was the later rendition of Le ffeure.

Mr. Allen tracked Isaac in the early records of Manakin Town as follows: (1) he believes he was, by process of elimination, the "Isaac le Feme" of "Liste des Personnes du Second Convoy Qui Serant Tount l'Annèe a Manicanto I Xbre 1700;" (2) he notes the "List of the Refugees who are to Receive of ye Miller of Falling Creek Mill one bushel a Head of Indian Meale Monthly as Settled at or about King Williams Town to begin ffeb. 1700 [1701]" listed a household of three persons with the surnames Le Febvre, Martin and Robert; (3) he notes that William Byrd's "List of Ye French Refugees That Are Settled Att Ye Mannachin Town," dated 10 Nov 1701, listed in one household "Isaac Lefavour & his wife & John Martin;" (4) he notes Isaac appeared in the annual tithe lists from 1710 through 1717, variously as Febure, Lefebure or le febure; and that (5) he did not appear in the 1719 list, there being no list for 1718, suggesting he died between 1717 and 1719. He also noted that the 1714 "Liste Generalle de Tous les Francois Protestants Refugies . . ." showed him as "Isaac Lesebure" with a wife, one son, and three daughters.

Isaac's wife was Madeleine Parenteau, who died in 1720. As the widow "Madelinne le fevre," she left a will written in French, dated 19 Apr 1720 and proven 6 Jun 1720, which left her estate to her three daughters, Judith, Magnelaine and Elizabeth. Accordingly, Mr. Allen concludes the unnamed son in the 1714 "Liste Generalle" was deceased by the date of his mother's will (and presumably never married nor had children, thus ending this Lefèvre line). The rest of his article deals with the daughters and their families.

In my opinion, the Allen article made the claim our immigrant Lefew ancestor was a Huguenot doubtful, and the DNA evidence would seem to disprove the claim.

The children of Stephen Lefew:

By virtue of the division of the land of Stephen Lefew/Lephew in 1801, following his death in 1800, we have what appears to be a full listing of his sons. The birth order, however, cannot be determined from the division, since it is clear that the list of sons and their respective lots were in the order of the numbers assigned to the lots and not in their birth order nor even in the order of the draw, which presumably may have been by birth order. For example, my Joseph was probably the oldest and maybe the first to draw, but is listed ninth since he drew Lot 9. Later census records help some in roughing out the birth order, but they are inconclusive in several instances. Note that pursuant to the 1790 census, there were six children below the age of 16, possibly seven counting daughter Elizabeth, so that spacing between children was minimal. Also, two children from the 1801 division are unaccounted for in the 1790 census. While they may have been born after 1790 -- although in that event they would have seemingly been too young to inherit in 1801 -- I think it most likely that two older sons, both over 16 at the time of the 1790 census, were for some reason not enumerated. I have attempted to list the children in their birth order as best I can determine.

There are marriage records for two other male Lefews that could be sons of Stephen: John Lephew, who married Miranda Underwood in 1811 (bond dated 8 May 1811, with William Scott bondsman) and Jonas Lephew, who married Patsy Moore in 1812 (bond dated 16 Sep 1812, with Uriah Lephew bondsman.) Since no provision was made for them upon Stephen's death and since Mary Lefew was enumerated with 3 males under 16 in the 1790 census, I suspect these were her sons. Note that while others have speculated Mary may have been a sister of Stephen, I suspect she was the widow of a brother of Stephen. However, no records of such a brother have yet been found.

As to daughters, presumably Elizabeth was one, because although Lot No. 7 was recorded as having been drawn by Elizabeth, Stephen's widow, the lot was later sold by Elizabeth Scott Lephew, presumably the daughter Elizabeth who married William Scott. It seems she somehow succeeded to her mother's lot and either believed it necessary or advisable to reverse her maiden and married names when the lot was later sold. (While it seems unlikely that the widow Elizabeth may have been a Scott before her marriage to Stephen and that it was she who sold Lot No. 7, it's a possibility that should be kept in mind.)

Another possible daughter was Phoebe, who married William Craig in 1811 (bond dated 2 Feb 1811). She seems more likely to have been a child of Stephen and Elizabeth than of Mary/Polly, because Mary does not appear to have been married. If so, she was born after 1790. Maybe she shared in the proceeds of the sale of Lot 7 by her sister Elizabeth. Note that my Joseph named a daughter Pheobe, who was my 2nd great-grandmother. Accordingly, I have listed Pheobe as an additional child of Stephen and Elizabeth.

Except in the case of the children of Joseph, Elisha and Elihu, all of whom moved to Grainger County, Tennessee, I have not attempted to determine the grandchildren of Stephen. 6 7 8

Death Notes:
It was at the May 1800 Term of the County Court, which began 26 May, that the commission to partition the land of Stephen Lephew amongst his heirs was appointed.


Noted events in his life were:
1. Land Grant: 1782, Guilford County, North Carolina. 4

Warrant Entry No. 1198 entered 29 Jan 1779, Survey dated 12 Jan 1781, and Land Grant No. 461 issued 22 Oct 1782. Book 48:54.

100 acres on both sides of Little Rockhouse Creek, Guilford County, North Carolina, bounded by claims of land of Amos Elliot and Benjamin Silman.

[Benjamin Silman's land grant for 640 acres was also dated 22 Oct 1782. Note that in future years Stephen Lephew sold portions of Benjamin's grant, but how Stephen acquired ownership is not documented.]
2. Land Grant: 1784, Guilford County, North Carolina. 9 10

Warrant Entry No. 2241 entered 15 Apr 1781, Survey dated 11 Sep 1783, and Land Grant No. 1146 issued 8 Nov 1784. Book 56:255. Grant also recorded at Deed Bk A:272, Rockingham Co, NC (Rockingham formed from Guilford near end of 1785).

129 acres on the waters of Little Rock House Creek of Dan River. Warrant was for 150 acres abutting land of his previous survey and also land of Benjamin Silman and Charles Gallaway. Survey was 129 acres and named as abutters William Elliot, Benjamin Silman, Charles Gallaway, and Mary Elliot.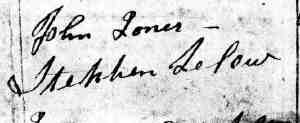 3. Petition: 1785, Guilford County, North Carolina. 3 11

Stephen Lefew signed a petition requesting that the northern half of Guilford County become a separate county. Such was accomplished on 29 Dec 1785, when Rockingham County was formed.

This petition contains the only known example of Stephen Lefew's signature. To my eye, it is a sophisticated signature.
4. Deed: 1787, Rockingham County, North Carolina. 12

Dated 24 Nov 1787, Bk B:52
Stephen Lephew sold 345 acres on both sides of Little Rock House Creek, which were originally part of a 640 acres grant to Benjamin Silman, to Butt Severangan for 150 pounds. Named abutters were John Abbett/Abbitt, John Jones, Thomas Bernard and William Procktor. Witnessed by A. Philips, John (his X mark) Abbitt and John Harding.

[Query how Stephen acquired ownership of the land granted to Benjamin Silman.]
5. Deed: 1789, Rockingham County, North Carolina. 13

Dated 21 Feb 1789, Bk B:175
Stephen Lephew sold 23 acres situated on both sides of Little Rockhouse Creek, being part of a 640 acre tract granted to Stephen Lephew on 21 Feb 1782, to John Jones for 20 pounds. Witnessed by A. Philips, Alem(?) (his X mark) B Williams.

[This is confusing, because there is no record of a 640 acre grant to Stephen Lephew dated 21 Feb 1782. His grant of 100 acres that year was for 100 acres and was dated 22 Oct 1782. Benjamin Silman received a grant of 640 acres, ownership of which as previously noted somehow devolved to Stephen, but that grant was also dated 22 Oct 1782. I suspect the 23 acres sold was part of the Silman grant.]
6. Deed: 1790, Rockingham County, North Carolina. 14

Dated 26 Aug 1790, Bk C:262
Stephen Lephew sold 232 acres situated on both sides of Little Rockhouse Creek, being comprised of Lephew's 100 acre grant and part of the 640 acre grant to Benjamin Silman, both dated 22 Oct 1782, to John Abbitt for 100 pounds. John Abbitt appears to have been deceased by 20 Aug 1793, the date the deed was apparently recorded. Abutters named were Charles Gallaway and Mary Elliott. Witnessed by A. Philips, James Hays Jun and John Jones.
7. Census: 1790, Rockingham County, North Carolina. 15

Stephen Lefew: 2 white males over age 16; 6 white males under age 16; 2 white females

[Immediately after Stephen, Mary Lefew was enumerated with a household of 3 white males under age 16 and 1 white female.]

[Note that this family profile doesn't match up with the division of land in 1801 after Stephen's death. There, 9 sons received shares in his land. It doesn't seem that 2 more sons of inheritable age could have been born after 1790. It seems more likely this was a miscount. Later census records cast doubt on whether there were any children born after 1790.]
8. Deed: 1796, Rockingham County, North Carolina. 16

Dated 12 Aug 1796, Bk E:91
Stephen Lephew sold 100 acres situated in Rockingham County to David Hyder for 30 pounds. George Peay was referenced in metes & bounds legal description. Signed by Stephen (my L mark) Lephew. Witnessed by David Seales, Nicholas (his X mark) and Philip (his X mark) Maberry.
9. Deed: 1799, Rockingham County, North Carolina. 17

Receipt dated 11 May 1799, Bk F:64
Stephen Lephew gave a receipt to William Murphey for 30 pounds, part of the purchase price for 440 acres on which Stephen then lived. Signed by Stephen (his X mark) Lephew. Witnessed by _. Gallaway.

Deed dated 26 Sep 1799, Bk F:79
Stephen Lephew sold 500 acres on waters of Whetstone and Dyers Creeks to William Murphy and Sams Rice for 50 pounds. Metes and Bounds legal description references George Peay, John Thomas and John Grant. Signed by Stephen (his X mark) Lephew, Witnessed by Elias Poey/Peay and J. Charters.
10. Estate Administration: 1800-1801, Rockingham County, North Carolina. 1 2 5

County Court of Pleas and Quarter Sessions
May Term 1800 (Began May 26)

Prayer of __ Lephew that a commission be appointed to partition the land belonging to Step Lephew among his heirs was granted. Commissioners appointed were Geog Peay, Jno Lemon, John Miller, Joshua Smith and Lewis Thomas.

[The date of this order means Stephen Lephew died before May 26, 1800]

Report of Commission:

"Agreeable to an Order of the Worshipfull Count of Rockingham, we the Subscribing Commissioners hath met on the Lands of Stephen Lefew decd containing four hundred acres, to lay of and Divide the said Lands amongst his Heirs agreeable to Law, by running a North & South line in laying of each lott. Beginning at

No. 1. Joining Gallaway line, Drawn by Enoch Lephew
2. Joining the sd No. 1 -- Drawn by Elihu Lephew
3. Join'g said No. 2 -- Drawn by Elijah Lephew
4. Join'g said No. 3 -- Drawn by Josiah Lephew
5. Join'g said No. 4 -- Drawn by Elias Lephew
6. Join'g said No. 5 -- Drawn by Uriah Lephew
7. Join'g said No. 6 -- Drawn by Elizabeth Lephew, widow
8. Join'g said No. 7 -- Drawn by Levy Lephew
9. Join'g said No. 8 -- Drawn by Joseph Lephew
10. Join'g said No. 9 -- Drawn by Elisha Lephew

We further report that No. 1 pays to No. 5 -- 10 Dollars & No. 2 pays to No. 6 -- 10 Dollars -- also No. 9 pays to No. 8 -- 15 Dollars. & No. 10 pays to No. 7 -- 15 Dollars.

Given under our Hands & Seals this 7th Day of May AD 1801

Geo Peay
Joshua Smith
Lewis Thomas
John Limon
John Milan"

Commissioners' report recorded in Deeds, Book G:158.

[The various grants and sales of land by Stephen in the years preceding his death cannot be reconciled with the amount of land owned at death. Even counting Benjamin Silman's 1782 grant of 640 acres, Stephen only seemed to have acquired 869 acres prior to his death, and yet he sold 1200 acres and still owned 400 acres at the time of his death. Maybe, as the 1789 deed indicates, there was another land grant of 640 acres dated 21 Feb 1782, for which records do not exist, although even that would not completely make up the difference, or maybe the sale in 1799 was partially nullified for some reason, since the land divided among the heirs was on Whetstone and Dyers Creek and the Dan River.]